Christ Calls Priests to Fill Countless Roles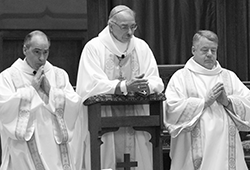 Throughout scripture, Christ calls priests to fill countless roles; they serve as the mediators between God and man, overseers of the Church, and guardians of the faithful. It is through their divine ministry that Catholics come to understand Christ on a deeper level. The Catechism of the Catholic Church explains that Holy Orders is the sacrament through which the mission entrusted by Christ to His apostles continues to be exercised in the Church until the end of time. Hebrews 5:6 says, 'You are a priest forever according to the order of Melchizedek'.

Thus, a priest's work never ceases to exist, and many priests in the Diocese of Columbus even make plans to continue their work well beyond their earthly lives. Through estate planning and establishing endowment funds, they ensure perpetual financial support for other priests. In just the past year, The Catholic Foundation established eight new funds created by, or in honor of, priests in our diocese.

For example, the Monsignor James Le'Roy Tonkinson Ruef Fund for the Training of Priests was created to provide support for the formation of seminarians in the diocese. By leaving a gift in his will, Monsignor Ruef solidified his commitment to ensuring that all men interested in pursuing a call to religious life have the resources to answer God's call.

"Like many of our priests, Monsignor Ruef had the incredible foresight to create a plan for his estate that aligned with his values and interests," said Loren Brown, President & CEO of The Catholic Foundation.

While Monsignor Ruef was committed to providing for priests in the beginning of their journey, The Catholic Foundation also works with many priests and individuals who feel strongly about providing for priests towards the end of their journey. There is a great need to secure funding to ensure the financial stability of priests who retire after serving the Church, and younger generations of priests collaborated with donors to respond to this need. This year, for example, the Father Frank Stanton Endowment Fund for the Long Term Care of Priests in the Diocese of Columbus was established to serve the ongoing needs of priests after retirement. The Catholic Foundation also guides individuals, parishes and other groups in establishing funds to honor priests from the diocese. For instance, The Monsignor Missimi Christian Athlete Scholarship Fund awards scholarship grants to eighth grade Immaculate Conception (Columbus) student athletes who will attend a Catholic high school. This fund honors Immaculate Conception's beloved Monsignor Anthony Missimi, who retired in 2008.

"Over the years, we've had many priests establish a fund through an estate gift, just as we've worked with many donors who wish to honor a priest," Brown said. "We hope that more individuals will consider supporting the vocation in this way."

The Catholic Foundation encourages donors, including priests, to consider establishing a fund or leaving a gift to support the priests in the Diocese of Columbus. In addition to individually named funds, the Foundation also administers funds such as the Support for Vocations Fund, the Diocesan Seminarian Assistance Fund and the Long-Term Healthcare for Priests Fund.

"Leaving a gift like this is a wonderful way to express appreciation to our priests who dedicated their lives to guiding us in ours," Brown added.