A Legacy of Education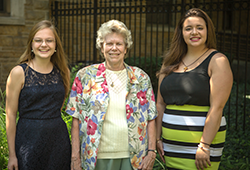 Adeline Pax Laihr followed a long line of strong women, and served as a model of strength and a beacon of light during her lifetime. She worked tirelessly for her children, ensuring they received a higher education and had the ability to pursue their dreams.

Adeline's family placed a high value on education throughout many generations. Her great-grandmother served as the unofficial schoolteacher and nurse midwife in a budding community in Ohio. Adeline's own mother attended school through the eighth grade, and then served as an aide at the school. Adeline excelled in school, and because her mother recognized this, she made arrangements for Adeline to live with family in another town in order to attend high school. Adeline earned state honors in Math and Latin, graduated with distinction, and received a scholarship to Mount St. Joseph College in Cincinnati.

"She wasn't able to use the scholarship because she needed to work to help the family," Adeline's daughter, Karen, recalled. "I think that really bothered her, because she knew there were others like her who needed help."

When Adeline's husband passed on after just 15 years of marriage, she again returned to the workforce. However, she never lost sight of the importance of education. She taught her daughters, Karen and Brenda, to read and she encouraged the girls to participate in the daily care of their brother, Bruce, who was born with Down syndrome and passed to eternal life as a toddler.

"Brenda and I learned to treasure the gifts God gave us as we cared for our brother. Our mother taught us the importance of compassion and faith, in addition to the value of education," Karen said.

"Mother and her mother lived by the adage, 'What you put into the life of another, comes back into your own'," Brenda added.

Through Adeline's example, Karen developed a life-long love for reading while Brenda embraced science and medicine. Their mother's ardent commitment to education eventually allowed them the resources to attend college for their respective vocations. Karen became a teacher and librarian, eventually retiring after 42 years at St. Thomas the Apostle and All Saints Academy. Brenda became a nurse, and continues to work in California after 40 years in the profession.

After ensuring her daughters received their degrees, Adeline also returned to school. She received her Associate of Science in Business Administration from Franklin University.

"It was a sense of accomplishment for her," Karen explained.

Adeline passed on quite a legacy to Karen and Brenda. From her, they learned to be strong in the rough times, to trust in God and to honor commitments. Adeline was a resourceful, devout steward of God's graces. She saved despite her circumstances to care for the needs of others in the Catholic faith that meant so much to her. Fittingly, Adeline's legacy continues beyond her earthly years through The Joseph J. Laihr and Adeline Pax Laihr Scholarship Fund, which provides scholarships in the fields of education and nursing.

"Our mother felt blessed to work with the graces she received to allow Brenda and me to reach our vocations," Karen said. "She wanted other students to have the same opportunity."

"Patience, respect and compassion were the hallmark qualities of our mother. Infused with these qualities, I was prepared to launch my nursing career," Brenda said. "My best opportunity, for which I will be eternally grateful, was being able to give true hands-on care to Mother in her last days.

"So Mother's blessings have come full circle and will continue through the recipients of the Laihr Scholarships for Education and Nursing," she added.