Providing a Harvest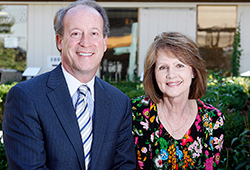 For I was hungry and you gave me food, I was thirsty and you gave me drink, a stranger and you welcomed me...

When Michael and Jo Ann Carpenter approached The Catholic Foundation to discuss opening a fund, this verse from Matthew chapter 25 helped to guide them. The couple knew they wanted to make a substantial impact on hunger in Columbus, and looked to the Foundation for direction.

"Life sometimes can be uneven for those who are less fortunate than others," Michael said. "We felt that helping to feed those in need in Columbus, through faith-based charitable works, was something we wanted to do."

"The Catholic faith has been very important to me, my entire life," Jo Ann added. "It's always been part of who I am, and what I hope to impart on others."

It was a natural fit, then, when the Carpenters created an endowment fund to benefit St. Lawrence Haven, a free lunch program in Downtown Columbus run by the St. Vincent de Paul Society. Jo Ann already made sandwiches each week for the program as part of the St. Matthew Parish Charitable Works Committee, and this fund enabled her to amplify the outreach.

"That's the way we were brought up – to help others who are less fortunate," Jo Ann said of the couple's charitable giving and her volunteer work.

"This endowment seemed the ideal way to honor and build upon the kind works that my wife, Jo Ann, has always embraced, and to further her efforts in a lasting way," Michael explained.

By creating an endowment fund at The Catholic Foundation, the Carpenters planted the seeds of the future for St. Lawrence Haven. The Foundation tends to the ground and sows the seeds by investing the funds wisely and permanently, with the interest providing a bountiful harvest for many years to come.

"We chose an endowment so that it would be there in perpetuity," Michael said.

"I want it to be there forever."

To learn how you can eternally honor a loved one through an endowment fund, or to contribute to an existing fund that supports your favorite Catholic charity, visit Catholic-Foundation.org.