Paying it Forward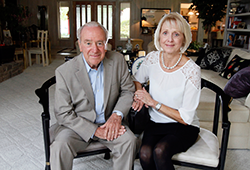 As Judy and Gene Alfonsi reflect on their 24-year marriage, they both agree that Catholicism played a major role in their lives. Now heavily involved in organizations such as Cradling Christianity, the Franciscan Foundation for the Holy Land, the Equestrian Order of the Holy Sepulchre, St. Brigid of Kildare Parish and many more, the pair admits they didn't always live that way.

A few years after marrying, their blended family began to feel disjointed and they realized that they needed to make a change. Gene credits Judy with leading them to strengthen their Catholic faith, and therefore strengthening their marriage.

"Everything fell into place after that," he explained.

As the couple realigned their focus, a friend encouraged them to join the Equestrian Order of the Holy Sepulchre and eventually travel on a pilgrimage to the Holy Land. Both Judy and Gene believe joining the Equestrian Order of the Holy Sepulchre was a defining moment for strengthening their active Catholicism.

"It's funny how God works," Judy said, explaining the many major life events leading up to the pilgrimage.

"It was a life-changing trip," she added. "After that pilgrimage, we, along with other pilgrims, began Cradling Christianity. It is an annual fundraiser held in the fall for the Franciscan Foundation for the Holy Land."

Cradling Christianity celebrated its ninth year this September, but Judy and Gene haven't slowed down in giving back to the Catholic faith. The Alfonsis set up a Donor Advised Fund at The Catholic Foundation, and use a Charitable Lead Trust to help fund it.

"The CLT provides a fixed amount to the Foundation each year. It's budgeted for the rest of our life, so that we don't have to make that decision each year," Gene explained. "It's not just about good estate planning; it's about doing the right thing."

In an effort to pass on a legacy of giving, Judy and Gene gift $1,000 to each grandchild on their birthday that they gift to the charity of their choice. This affords the parents and grandchildren the opportunity to discuss the different needs in charities and encourages them to help others.

"We feel so fortunate, and are so blessed in many ways by God that we want to pay it forward and help others," Judy said.